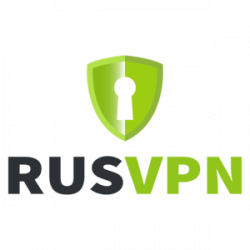 RUSVPN
PureVPN
RUSVPN (Reliable, Unlimited and Secure) is a VPN software, created and developed by Iron Media Group Ltd in mid-2019. This company has its registration number of 2017/IBC00023 and headquarter at 3rd Floor, C&H Towers, Corner of Great Marlborough and Great George Streets, Roseau, 00152, Commonwealth of Dominica. Iron Media Group Ltd establishes RUSVPN with the belief that 'every person has the right to use the quality internet'. At the very moment, RUSVPN has over 200,000 around the world and operates nearly 400 servers in over 50 countries.
RUSVPN facilitates users to stream movies, music and others from various media channels without buffering and restrictions. Streamers won't find any difficulties while watching Netflix, Hulu, Amazon, HBO, Disney and other streaming providers. For contents that are restricted in certain regions, you can easily bypass them by changing your IP address.
RUSVPN also ensures the protection of connection by advanced encryption protocols and other policies like no-logs and kill-switch. Data sharing services like BitTorrent are also supported with a guarded connection. Even in the harshest jurisdictions like China, RUSVPN still proves its effectiveness and reliability.
For any support, both RUSVPN users and non-users can seek responses quickly via the 'Help' button in the bottom-right corner of the website. For users who want to test the service priorly, RUSVPN offers 30-days money-back guarantee (applied for limited data usage).
Streaming
Streaming services have been becoming a new trend of broadcasting and gradually replacing conventional television. Its popularity comes from advantages such as wide selections of movies, documentaries, shows with high definition and more importantly, the audiences can choose their favorite ones themselves. Nonetheless, several contents, sports events and even the streaming services are restricted in several jurisdictions. That's when VPN comes into play.
RUSVPN offers different anonymous IP addresses for users to choose from, replacing their original ones and also the location. For example, if a streaming provider is censored in China, you just need to use a VPN to change your IP location to another country and reconnect to the channel.
RUSVPN's server network spreads over 50 countries with a total number of nearly 400, giving users more choices to pick appropriate servers. Among them, there are servers optimized for each streaming provider. You can use the searching tool provided by RUSVPN to find the top 3 servers best working for your activity.
With a wide network around the world and unlimited bandwidth, RUSVPN can provide a fast connection regardless of users' locations. The connection speed is maintained at the same rate as the original one with a very low ping, ensuring you have a seamless browsing experience.
File sharing
Many internet users take advantage of Torrent to download music, movies, games and other contents. However, this P2P is one of the most vulnerable connections on the internet and also restricted in many countries. Therefore, using RUSVPN is a good way to mask your IP address and protect the data transferred simultaneously.
Gaming
For gaming devices such as PlayStation or Xbox, you can also apply VPN but not by downloading applications on their online stores. Instead, you need to set up the VPN for your whole connection. RUSVPN also supports Wi-Fi routers so you can get the protection covering all devices transferring data via the Wi-Fi including gaming stations, computers, TV and others.
Potential Threats
The common thing in these above sections is that you actively seek a solution to help you bypass the restriction fence and get extra protection. So, have you ever thought about a passive defense for your browsing?
On the internet, many subjects want to extract your information. You are thinking about hackers? Yes, but they are just one group. If you don't know, Telecommunications service providers or your TSP are also monitoring your data continuously. Websites are another group collecting your data as it helps them to optimize their business.
On one hand, these activities can promote you to have a convenient browsing experience in a normal condition. On the other hand, they can be used against you. Nobody wants their privacy violated or has information sold like goods. For these reasons, a connection guarded by RUSVPN should be a solution to absolute private browsing.
Security & Anonymity
RUSVPN is compatible with all common devices and operating systems like PC (Windows, Linux, macOS), phone (android, iOS). You just need one account to get the VPN for all of your devices.
RUSVPN is a double VPN which means your data will be encrypted twice. To be specific, it is routed to one server, get encrypted before being directed to another one and get encrypted the second time. This approach makes your connection like a tunnel inside a tunnel and even if the hacker could catch your encrypted data, they just can't decode and extract the real data within.
In terms of protocol, RUSVPN uses OpenVPN 256-bit 2048 RSA technologies and connects via reliable and fast IPSec (IKEv1 + IKEv2). PPTP, L2TP protocols are also available and automatically switched. RUSVPN's encryption is considered military-grade and reported no DNS leaks.
To give users further protection, kill-switch is built in. This function will disable internet access instantly if RUSVPN drops. Since the shutdown of VPN is sometimes hard to notice, it makes your connection exposed to outside threats so kill-switch can help protect all the time. Nonetheless, if you don't like such an interruption, just turn off this function and enjoy browsing.
| | |
| --- | --- |
| Protocol | RUSVPN |
| Open VPN | ✅ |
| PPTP | ✅ |
| L2TP / IPSec | ✅ |
RUSVPN is based in Dominica which appreciates personal freedom and privacy rights. In compliance with Dominican regulations, RUSVPN applies a no-log policy, according to which the VPN only collects login data like the username. Other information and client's data must be cleared within a day. Moreover, RUSVPN accepts transactions via Bitcoin in case the clients want anonymous payment.
| | |
| --- | --- |
| Security features | RUSVPN |
| OpenVPN 256-bit 2048 encryption | ✅ |
| Kill switch | ✅ |
| DNS leaking blocking | ✅ |
| Accepts Bitcoin payments | ✅ |
Performance
As has been mentioned, RUSVPN can provide an outstanding speed thanks to its wide network of servers. With the US server, both uploading and downloading speed is maintained at over 90 Mbps. Meanwhile, ping is kept at a very low rate of 1 or 2 ms, making RUSVPN an excellent choice for both streaming and gaming. RUSVPN also stores your choice of the server to save your time in the next browsing.
| | |
| --- | --- |
| Performance feature | RUSVPN |
| Max download speed | 94 Mb/s |
| Max upload speed | 94 Mb/s |
| Ping time | 1-2 ms |
| Average time to connect | 5 s |
| Reliability rating | Outstanding |
User-friendliness
RUSVPN has intuitive interfaces for all versions. For the mobile version, you just need to pick your server, tap 'connect' and let the application do the rest.
| | |
| --- | --- |
| Device | RUSVPN |
| Windows | App |
| Mac OS | App |
| Linux | App |
| iOS | App |
| Android | App |
| Wi-Fi router | Manual installation |
You can also change your preference for functions like 'auto-connect' or 'kill-switch' in the setting. The RUSVPN application also has a 'help' section so you can easily email the support team if there are any problems.
Subscription Plans
Finally, one of the biggest pros of RUSVPN is its cheap prices. For monthly payment, you need to pay $9.99 while the annual plan costs you $4.99 on an average month. The cheapest plan is a 3-year subscription with only $2.99 on an average month. Besides, RUSVPN also offers several promotions such as purchasing one year and getting 6 free months or discounts for students. Users can make payments via cards, bank transfer, WebMoney, QiWi and Bitcoin. The trial is now limited to 7 days only on the mobile version.
The Bottom Line
RUSVPN has only one year to reach the milestone of 200,000 users. It offers a global server network with nearly 400 in 50 countries around the world. RUSVPN ensures your privacy and secures your connection with solid and reliable encryption. Despite a straightforward interface, it brings all necessary functions including kill-switch, auto-connect, and helps you access all websites, downloading, streaming and gaming with ease.
RUSVPN also impresses users by providing a superfast and stable connection while maintaining compulsory protection. Moreover, users can easily ask for technical support on RUSVPN website or directly via their downloaded application. And most importantly, RUSVPN offers very affordable plans starting from only $2.99 per month while 30-days money-back guarantee is still available.